BLAIR – After not being able to golf against other teams the past three weeks, members of the Wayne High varsity boys golf team took part in only their second competition of the season on Tuesday.
From River Wilds Golf Club in Blair, the Blue Devils joined nine other boys golf teams in the Badger Division (top division) during the inaugural Blair/Bennington Invite. Golfers battled chilly temperatures and brutal winds all day.
Wayne High tied for seventh with a 359 team score.
Mount Michael won the invite with a 315; followed by Omaha Skutt Catholic in runner-up (326); Concordia took third (339); Gretna placed fourth (345) and Waverly rounded out the top five teams with a 346.
Individually for Wayne High, Tanner Walling secured third place following a scorecard playoff with a 78 followed by Drew Sharpe in 16th with an 85, one spot from taking home a medal.
Other Blue Devil results came from Bo Armstrong (92), Camron Weaselhead (104), and Kyran Bartos (113).
The top individual golfer on the 18-hole course was Trevor Gutschewski from Mount Michael with a two-under PAR 70.
Leading the Bear Division was Elkhorn North with a 321 followed by Wahoo with a 360 in second.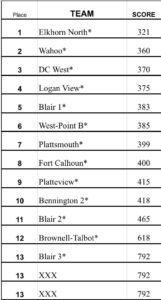 The Wayne High boys golf team picked up an outing with last week's Boone Central Invite being canceled. WHS will next participate in the Lutheran High Northeast Invite on Thursday, April 21 starting at 9 a.m. from the Norfolk Country Club.