BEEMER – With a busy April/May schedule ahead for the Wayne High boys golf team, the Blue Devils began their season in late March with a Monday morning invitational.
From the Indian Trails Country Club in Beemer, 15 teams made up the West Point-Beemer Invite.
Wayne High finished runner-up as a team with a 371 on the 18-hole course.
Pender was crowned champion of the West Point-Beemer Invite with a 354, followed by Wayne's 371 and the host West Point-Beemer took third with a 379.
The top Blue Devil boys golfer was Tanner Walling who tied for first with Hayden Hunke of West Point-Beemer with an 82. Walling then went onto win the sudden-death playoff to secure first place outright.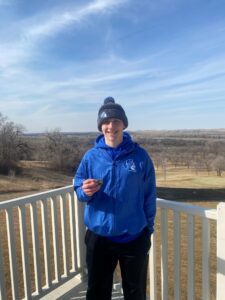 Bo Armstrong finished third (84) and Drew Sharpe earned a 10th place medal (92).
Other players for Wayne included Kyran Bartos (score of 113) and Cameron Waselhead (119).
The Wayne High boys golf team will next compete in the Oakland-Craig Triangular with Wisner-Pilger at the Oakland Golf Club on Tuesday, April 5 starting at 4 p.m.