PONCA – Along with 'Take & Go' activity bags being available at the Resource & Education Center, Ponca State Park will be hosting a handful of in-person events on Saturday, January 22 and Sunday, January 23.
According to a release, begin the weekend on Saturday during an 'Igloo Building' event from 10 – 10:45 a.m. Join a park naturalist to learn about winter survival and then create your own sweet igloo with icing and sugar cubes. Meet in the Willow Conference Room as cost is $3 per kit. (Register from 8 – 9:30  a.m. in the Resource and Education Center).
Moving into the afternoon from 12:30 – 1:15 p.m. will be 'Critter Corner'. Participants will get a chance to see furs, skulls, artifacts and more. Park naturalists will provide more information on how animals survive in the winter and you'll even get to meet some resident critters during this free event by meeting at the Display Wing at Ponca State Park.
Also on Saturday will be an 'Introduction to Nature ID Apps' from 2 – 2:45 p.m. Park goers will learn how to use technology to identify the nature and critters around you. INaturalist, PlantNet and Merlin Bird ID will all be utilized as your smartphone or iPad is recommended but not required during this free event by meeting in the Willow Conference Room.
Closing out the weekend will be a morning hike from 9:30 – 10:15 a.m. on Sunday. Start your day off outside with a naturalist on the Overlook Trail. Take in the view of the Missouri River and learn how the park changes in the winter. Meet at the Tri-State Overlook parking lot during this free event.
Other activities at Ponca State Park include the Bloodroot Trail Gnome Hunt; Creative Snow Building Contest; Bingo/Scavenger Hunts/Passports; Search for Sasquatch; Ponca Packs and the Old Oak Trail Self-Guided Hike.
Also, after much deliberation, Ponca State Park would like to announce the winners in their second annual Cabin Guest Art Contest.
In the Age 13+ category; runner-up went to Ella Schmiedt from Dakota Dunes, SD and first place went to Katie Neuharth from Crofton, NE.
In the Age 7-12 category; runner-up went to Sylvie Hadley from Minneapolis, MN and first place went to Carlee Sue Erwin from Bee, NE.
In the Ages 6 & under category; runner-up went to Willa Surber from Ponca, NE and first place went to Berkley Wulf from Crofton, NE.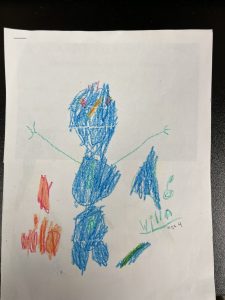 Prizes are being mailed out to all winning entries. A big thank you to all participants for sharing your creative skills with Ponca State Park
Like Ponca State Park NE on Facebook for more activities and information. Contact the park at 402-755-2284 with any questions.