WAYNE – This past Monday, a group of licensed physicians from across the U.S., calling themselves Frontline Doctors, held a "White Coat Summit" in Washington, DC with the stated intent of dispelling the misinformation and myths surrounding the coronavirus.
They touted several well-known and long-studied treatments that are proven to treat the virus including hydroxychloroquine, zinc, and azithromyocin aka Zithromax. No mainstream media outlets covered the summit at all. Breitbart News was the most prominent news source on the scene.
The full conference outside of the Supreme Court was about 45 minutes in length. A variety of doctors from all around the United States stepped up to the outdoor podium to give their testimony on the effectiveness of virus treatments shunned by mainstream media and big pharma.
The doctors' testimony was that they've had success with virus patients. It makes more sense to listen to a successful doctor than an unsuccessful one, or a person that has a doctorate but does not treat patients, like Anthony Fauci.
Not only was the Summit not widely covered by national media, efforts to distribute the contents of the discussion on Twitter and Facebook were thwarted as those social media posts were removed. Their website is: www.americasfrontlinedoctors.com.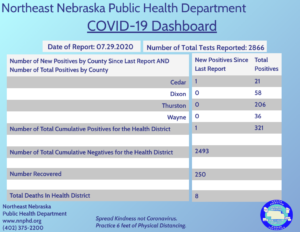 Meanwhile, local media across the country has attempted to get a handle on actual hospitalizations and recoveries – including here in northeast Nebraska where data is disseminated by both the Nebraska Department of Health and, closer to home, our own 4-county Health Department.
As of this writing, statewide, over 264-thousand residents have been tested. Of those, 25,157 have tested positive and there have been 321 deaths credited to the Covid-19 outbreak – a little over 1%. Statewide, 265 of the state's 697 ICU beds remain available. And 81 percent of the state's 814 ventilators are available.
After months of asking, we now know that of the 321 cases and 2,866 tests in Cedar, Thurston, Dixon and Wayne counties there have been 8 deaths with only 1 new case in Wayne County in the last 14 days. In the district, there have been 60 recoveries with 247 listed as Still in Isolation, May be Symptomatic or No current symptoms.
While Northeast Nebraska Public Health Department continues to provide weekly updates including the charts provided to the media (above) the charts are still not available on their web site. The frustration for regular folks is that reliable information remains difficult to obtain in a highly politicized environment.